Google Forms are a free service for data collection provided by Google. Users with a google account can create forms through an interface that can be shared via email, social media, or filled out in person. The service requires the audience to have access to the Internet. Google forms can be edited by multiple people, and produces simple, slick visualizations to review the data.
This is a very useful tool, for example, for a blog or a store. You can send a form with a suggestion that the client leave a feedback about your site, your service or any product.
Do you want to embed a Google form in WordPress? Google Forms are easy to embed anywhere and are particularly useful when you need to share the form on multiple websites. In this article, we will show you how to embed a Google form in WordPress.
How to Embed a Google Form in WordPress
First you need to visit the Google Forms website. If you haven't already created a form, then select a template to start a new form.

Creating a new form in Google Forms is quite simple. First you need to provide a form title, description, and then you can start adding your form fields.
Google's AI technology automatically selects the correct form field based on the question you ask. If it selects incorrect field type, then you can manually select it.
You can click on the add button in the menu to add a new form field. You can also add images and videos.
Once you are satisfied with your form, click on the send button to get the embed code.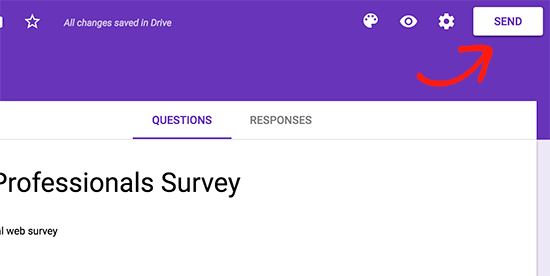 This will bring up the send form popup where you need to click on the embed tab. Next, click on the 'Copy' link to copy the embed code.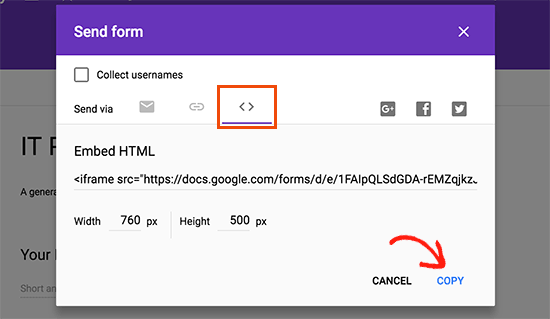 After that head over to your WordPress site's admin area and edit the post or page where you want to display the form.
On the post edit screen, you will need to switch to the text editor and then paste your form code.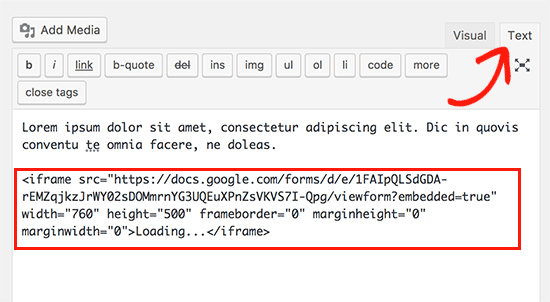 You can change some values, before you insert a form, like a border or width and height. Just write the required parameters in the tag attribute.
Don't forget to click on the save or publish button to save your changes.
You can now preview your post or page to see the Google form embedded in WordPress.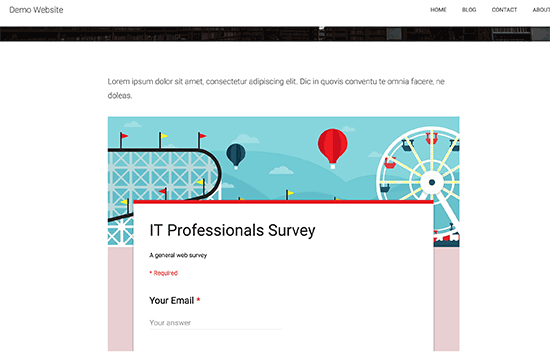 In Conclusion
We hope this article helped you learn how to easily embed Google Forms in WordPress posts and pages. It will be a very useful for you, if you wanna improve your store.