Create awesome product tables in seconds, with the exact product data you need.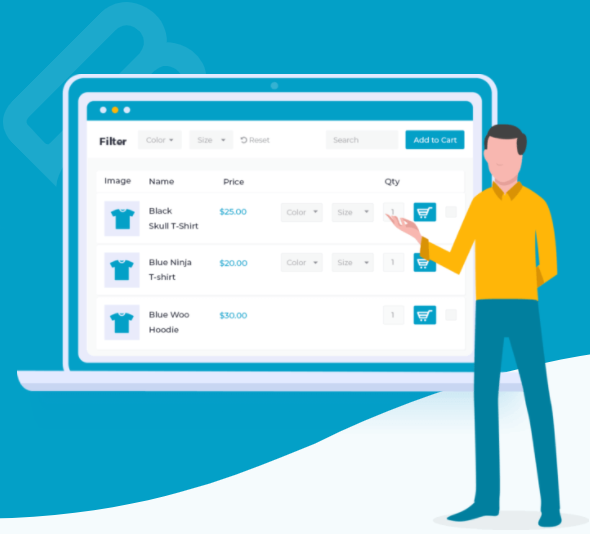 WooCommerce Product Table has proved to be the fastest and most flexible WordPress plugins to find and purchase products with WooCommerce, as well as to effectively build refreshing user experience. The plugin is packed with 50+ different features and a huge number of third party integrations – You don't say!
Let's have a closer look at the plugin features and how YOU benefit from using them!
Easy start
WooCommerce Product Table offers an exceptionally thought-through and intuitive interface, which is amazingly flexible and customizable.
The plugin is user-friendly and you save your time by creating awesome product tables in seconds.
As well as that, the plugin can be successfully used by aspiring store-owners with no coding skills and experienced developers.
Create tables your way
Gain a full control over data: using Product Table you can show just about any product column you can think of: SKU, ID, name, description, date, price, add-to-cart, categories, tags, videos, images & more. To make it enough, create custom fields, columns listing attributes and taxonomies.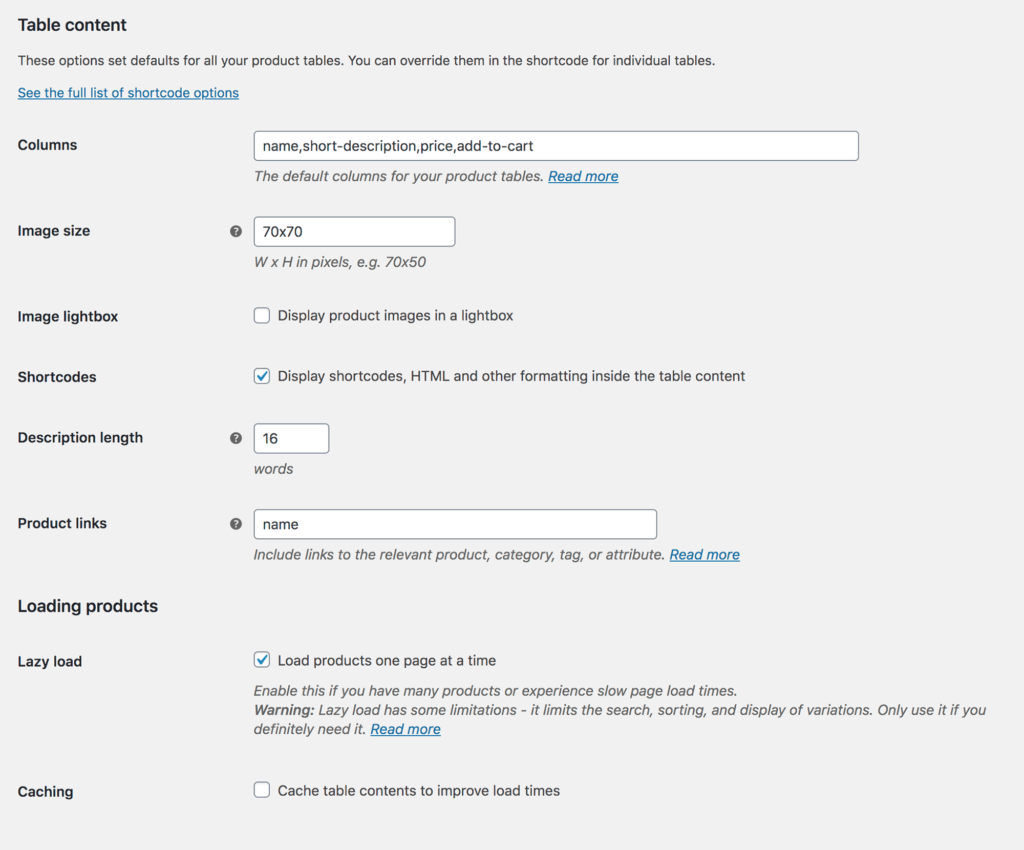 Control which products appear in the table. For instance, you can list specific products based on category, tag, status, date, custom taxonomy term, or custom field value; include/exclude specific products based on their IDs; exclude entire categories from the table.
List a huge number of products. With the AJAX option (lazy load), you can list unlimited products in one or more tables.
Customize the table size: product limit, rows per page and column width.
Add tables anywhere. Another handy feature is that you can add tables anywhere using a shortcode, Gutenberg block, or enable on shop and category pages.
Integrate with other services
Benefit from dozens of useful integrations! Barn2 have tested WooCommerce Product Table for compatibility with a variety of different plugins – not just WooCommerce. The plugins code follows the latest WordPress best practices, so that it's likely to work with a wide range of third party plugins and any WordPress theme. It also supports Product Add-Ons, Quick View, Dynamic Pricing & others. Make the best out of combining different products together with Product Table in creating tables the way you want!
Keep reading: Which plugins are compatible with WooCommerce Product Table?
Build positive user experience
Enhance user experience with fast search & filtering options. WooCommerce Product Table makes a great team with BeRocket WooCommerce AJAX Products Filter and is fully compatible with the plugin.
Fine-grained product selection. List all your products in a table, or show & hide specific products (based on category, tag or ID).
Fast One-page ordering. Customers can order multiple products/variations with one click. They can also find products with instant search and sort them, which works well for WooCommerce wholesale, order forms and restaurants.
Quick 'Add to Cart' buttons. Increase sales by allowing customers to add multiple products and variations to their cart directly from your product list page.
Optimized website speed. Customers value fast digital experiences! In fact, WooCommerce Product Table loads fast, which minimizes the load on your server!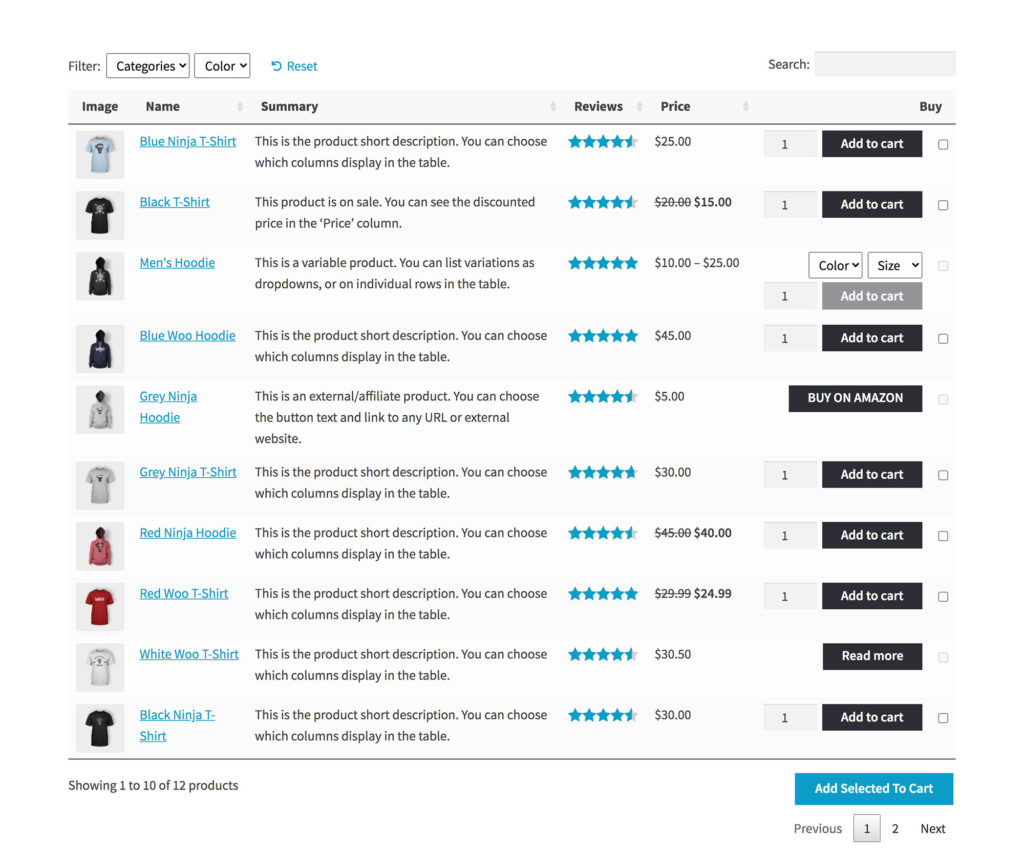 Barn2 has got you covered
The plugin is perfectly comprehensible, but if you feel like you need some more assistance on creating the product table you want, Barn2 has got you covered:
Try out the Demo version here before starting out with the plugin.
Follow a setup guide, to get you up and running in no time.
Find an extensive Knowledge Base with over 200 articles on the plugin for more tips and guidance.
Watch 100s of step-by-step videos and tutorials on how to use the plugins for a wide range of purposes.
Reach out to super-responsive expert support team and get the best solutions.
While some users are overly excited about the plugin, some may want their money back. If you're not 100% happy with your purchase, Barn2 offers a full 30 day money back guarantee. No questions asked!
Can't wait to get started? Follow the link to start your Free 14-Day Trial now!
If you are already familiar with the plugin, you may want to check out Barn2's Multiple Email Recipients plugin on order confirmation emails, if you find forwarding emails too time-consuming.