Are you the store owner? Do you have limited products? And you want to sell no more than a certain product for one person? Let's read this post together, we are sure that he can solve your problem!
How often do you need to make a quantity limit for a product? Imagine that you have some quantity of handmade product, and you can't sell more than 1 product for 1 customer. Or, on the contrary, you have a lot of ballpoint pens, and you do not want to sell less than 10 pens at a time. What will you do if you have this situation?
For example:
Someone bought 5 ballpoint pens in your store. After that, you saw that the customer bought 5 pens, not 10. What's the plan? I'm sure if you call or write to a client and tell him that he can't buy less than 10 pens, that's not a good idea. A situation like this should be prevented before the customer buys your product. If you do as we say, then you will not explain that you can't sell the quantity of the product that the customer wants.
There are cases when you need sell some product only with multiplicity 2 or 3, what will you do in this situation?Or you want sell some product only for the vip customers. Or you want make a limit only for one product or for the whole category. Maybe you want make a limit for quantity of products in cart or price in cart?
We thought about all these problems and created a plugin that can help you solve these problems. Let's try, what it can do?
Woocommerce Min/Max Quantity
WooCommerce Min/Max Quantity plugin allow you to setup limits for cost of products in orders and in groups and limits for quantity of products, product variations, products in orders and products in group. You can add products and product variations to group. Infinite amount of groups.
The plugin features:
Easy to customize, setup and use.
Set a minimum and maximum quantity required to checkout.
Set a minimum and maximum cost (of cart items) required to checkout.
Group of features(e.g. You must purchase in group of X).
Support minimum and maximum rules on variation level also.
Support minimum and maximum order items ( minimum & maximum number of products ).
Support Group of option on Category level also.
WPML Support
As you can see, the plugin can more than we wrote earlier.
The plugin menu
The plugin menu is located in Woocommerce -> Woocommerce Min and Max Quantity
The plugin has 3 tabs:
Also the plugin has some fields on the product editing page.
General
On the "General" tab, we can see:
Fields for hiding the "Checkout" button;
Checkbox for prevent add to cart if reached limit;
Fields to limit the cost of the cart and goods in the cart;
Field for input the number of global multiplicity that will be used for all products;
Groups Manager
Category Manager
Attribute Manager
Field for absolute and partial exclude products from rules;
and dropdown for roles settings
The plugin has a many fields for different rules, each user will can found some interesting for yourself and make her shop better. Let's try to create own store rules.
Hide Checkout button
We will hide checkout button in our store. Check the box if you need it too.

Prevent add to cart
It's a very useful function, which give user to understand that he reached limit in cart.

Products in cart cost and Quantity of products in cart
Make a min and max limit for quantity of products in cart and limit for cart cost.

Global multiplicity
This will be a very useful function for the owner who engages in wholesale or sells products in sets. Just input a number of multiplicity if you need it.

Groups Manager
Limit products in group. Create group first and after select this group in products.
For example:

Category Manager
Category manager allow you to create limit for categories, min and max cost per category in cart and limit quantity of products from category in cart.

Attribute Manager
Attribute manager – as for me, this is the most useful manager in the plugin.
You will can limit products with same attribute term. In our screenshot you can see attribute "Origin Country" with term "Germany", but the most simple example for this manager, it's a pen.
There are many type of pen:
– ballpoint pen
– gel pen
– brush pen
You can make 5 like a minimum quantity limit for gel pen and 8 like a minimum quantity for ballpoint pen and set 15 like a maximum quantity for all this pens.

Absolute and partial exclude products
If you want to have some products that will be exclude from the rules, you just need to enter the product name in the field.
How to work partial exclusion of products?
Partial exclusion of products works as absolute, if there is only this product in the cart, then this product will be exclude from the rules. If the cart contains any other products, than exclude for this product is not working.

Settings for Roles
Settings for Roles have the same configures like a general's settings. You will have a dropdown with all roles that your site have. Just choose what are you want: use role together with general's settings or use role rules absolutely.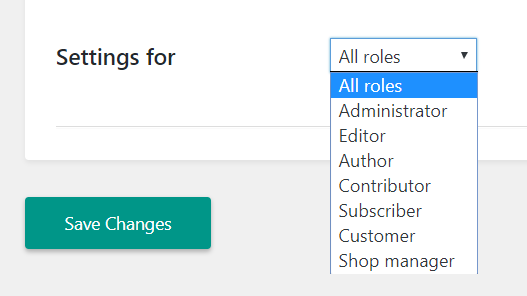 In conclusion
We hope that this post been useful for you and you will try our plugin. We trust that our plugin can help improve your store. On the plugin page, you can read more description about Woocommerce Min/Max Quantity.