Hey Guys! Christmas cheer is all around, and as Charles M. Schulz once said: "Christmas is doing a little something extra for someone"! Having our clients' needs as our top priority we've designed a bunch of super helpful and easy-to-use features that you can try out in the newest Advanced Product Labels version. Releasing the update now to lighten up your winter holidays and the further use of our plugin. Keep reading to find out more!
New Free Features
New CSS Templates: we've added 3 stunning CSS Templates to the newest free plugin version.
Labels for Product Variations: it is now possible to create labels not only for the products, but also for their numerous variations.
New Premium Features
Solid choices for any design
Gradient for Labels

Lend a complete unique feel to the design of your site by adding gradient labels. The gradient trend is universal, it can be bold, or subtle, or whatever you want it to be. Blend different shades of vibrant colors and create new unique and bright color combinations that feel different and are truly eye-catching.
Parameters: enable the gradient effect; gradient orientation (linear; radial; elliptical); gradient angle; gradient start/end color.

Additional Setting for radial and elliptical gradient:
Gradient size – farthest-corner/farthest-side.
Gradient position – Top left/ Top center/ Top right/ Left center/ Center center/ Right center/ Bottom left/ Bottom center/ Bottom right/.
Shadow for Labels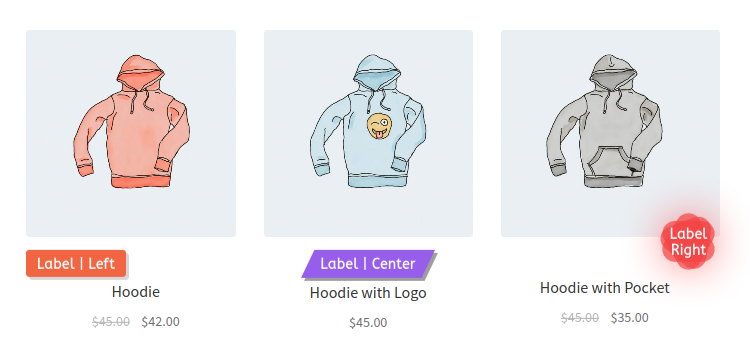 Create new attention-grabbing labels by adding shadow to most of the labels in your store! Add more contrast and bold expression to your site by creating a multi-dimensional design that is realistic looking and has a modern look and feel.
Parameters: enable the shadow effect; select the shift of the shadow – right/left; shadow blur and opacity; shadow color.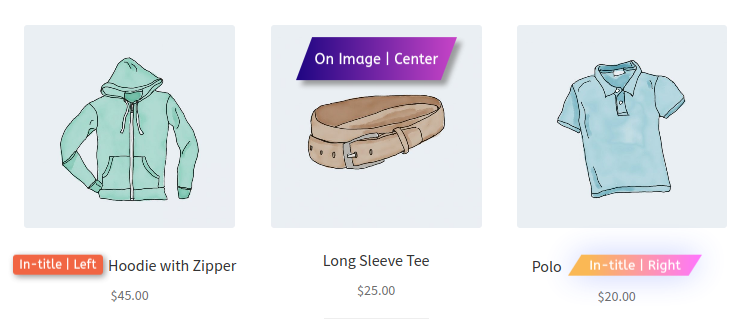 Take over the hassle of seasonal discounts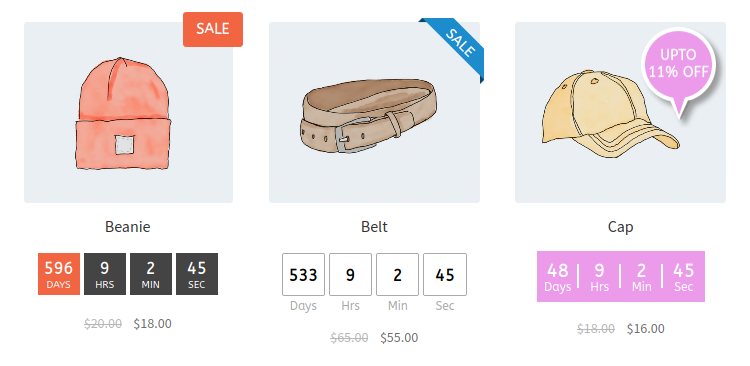 We do know how busy you may get during the period of seasonal discounts and sales, and so may your clients. Don't let them miss out on the best deals that your store offers by setting the Countdown (a timer if you will) together with the Sale label for products on discount. Make sure your customers know how long the offer's going to last and urge them to shop now. When a timer is up the label remains, and if you delete that label – the timer is also removed.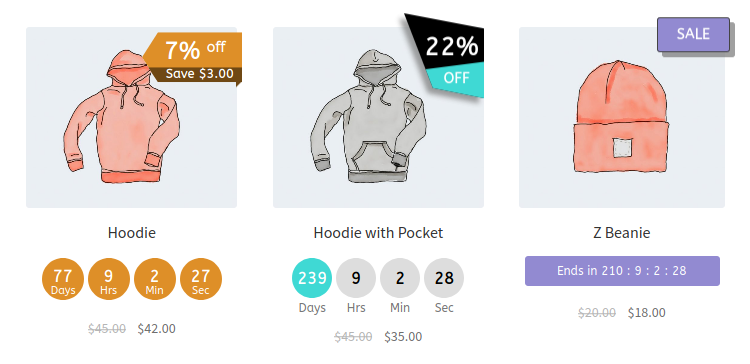 Countdown Settings: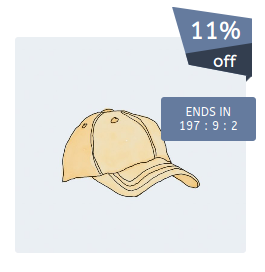 leading zeros in output (show 01:02:12 instead of 1:2:12);
margins, shadow and opacity (set in the Styles tab and are similar to the labels' settings). The Countdown styles can be modified regardless of the settings that labels have, e.g. you can add shadow to the timer, and labels can go without the shadow.
position: you can either make the timer look more compact by placing it right below the label, or position the timer using the hooks in the plugin's settings.
Size multiplier for all labels

In the previous version labels could only be sized manually in the Style tab where you could set the Height and Width of a label. The new version makes it possible to size labels either with the help of the Size Multiplier feature, if enabled, or manually.
New CSS Templates
14 perfect CSS Templates have been added to the newest free plugin version.

Background Image: if you feel like using your own images when creating new labels – you'll love this feature. It is possible now to use background images in most CSS templates. Visualize the info about the product or add some more unique patterns to new labels that suit the design of your site.
Click here to find out more about the Advanced Product Labels plugin and download the free version here now.
Check out the premium version of the plugin here. We always stand behind our products 100% and give our clients a 30 days money-back guarantee! See our refund policy and license details.
Wishing you a very Happy Holiday season!