As the Advanced Product Labels Team we pursue the improvements in the functionality of the plugin that we know you enjoy (just look at all the feedbacks!). And we figured how to make it even better for you: a bunch of new super easy to use options will leave you stunned.
Match the product title with the labels!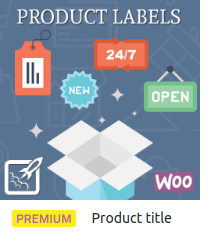 Always thought your new labels would match better with the product title rather than the image? Here's the new In Title option for placing the needed label in the Position settings. The function allows you to add a new label from either right or left of the product title. Now your users can know why you added an image there even if they can't see it. So convenient!
Visualize your tips!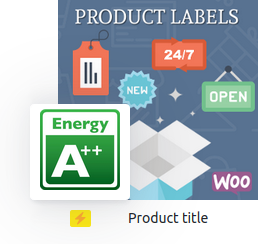 We know how important it is to guide your newbie users through the product pages. It's now so much easier to do with the new Tooltip option which allows you to add friendly Tooltip pictures. Help your users find their way around the site easily, and enjoy the process of purchasing.
Gain some more control!
Ever thought it would be more convenient to choose between the units of measurements? You got it! Make sure your labels are eye-catching by setting px, em, % values for the following settings:
Style:
Height,
Width,
Font size,
Line height,
Border Radius,
Border Width.
Position:
Padding,
Margin,
Padding from top,
Padding from left/right.
Play with fonts!
Got a favourite Google Font that would perfectly match your theme? Use the Font Family option that allows you to use Google fonts in your label blocks.
Bring some diversity!
We know you want to keep your users entertained! Look at the new CSS Templates we thought you and your users would love:
Cherry on top –  Let Google know you're there! 
Another honeyed update we're so eager to announce is the Advanced Content Addon! Let us explain how it works and what benefits it gives you. This new feature allows you to add links to the labels you wish to have on your product pages. It encourages positive participation and helps your users find the things that you want them to! Another point is that links are an important factor in making your site a more valuable and scalable resource. So basically, links are a signal to Google that your site is worthy of visiting.
Let us know how it goes!
Enjoy!