Today we are going to talk about shopping cart and notifications for her. So we could see cart notifications in "WooCommerce Min/Max Quantity" but sometimes we don't need to use plugin like it. What we need do if we want just to show some notification in cart? For example, you want to make an discount in your store and this action will be occur from 9 a.m. till 12 a.m.. You can make special notice, which will be shown every day on this time (9 a.m. – 12 a.m.). Sure, you can make more than notice on chosen time. We know the plugin, which can help with cart notifications. Lets go read more about it.
WooCommerce Cart Notices
WooCommerce Cart Notices plugin display on cart page notices based on products and product categories in cart, cart cost, current day and time, customer referrer. Add messages anywhere on your site shortcodes are allowed. Add button to your message to encourage your customers to perform the desired action.
The plugin features:
Improve sales by encouraging spending to receive benefits
Any messages for your customers on cart and checkout pages
Shortcode to display notices in any places on your site
Uses native WordPress WYSIWYG editor for notice messages
The plugin menu
The plugin menu is located WooCommerce -> Cart Notices
Cart Notices has a 2 tabs and button for adding new notice:
Also, plugin has a supplemental page for notice creating but we tell you about it later.
General
On the "General" tab you can see:
Disable all notices – Checkbox for disabling all notices
Pages to display notices – Dropdown select with store pages. You can choose the several pages from dropdown
Shortcode – instruction for use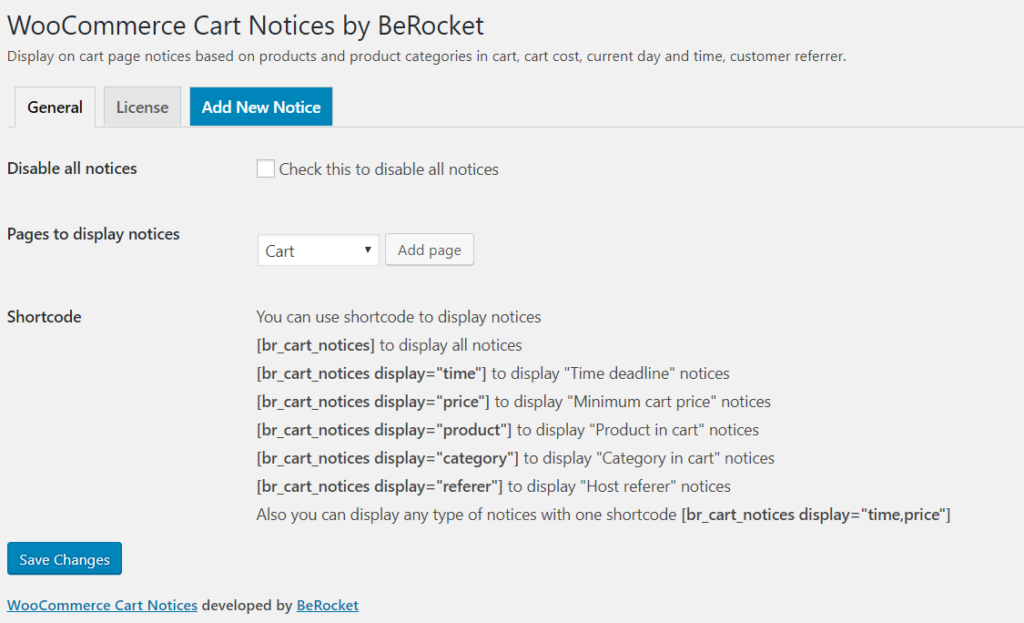 As you can see, in the picture above, "General" tab doesn't has a lot of settings but on this page there is a button for adding new notice.
Notice Settings Page
"Notices" page is located Products -> Notices or you can click on "Add New Notice" which located in WooCommerce -> Cart Notices.
You can create notifications as easily as posts. Every notice has a "Notice settings" block, it help to you to create a special notices with different parameters. You can create a button with needed link. Other notice options depends on notice type.

Let's go through each notice type.
Minimum cart price
Show notice when total cart price less then selected price value and more threshold value.
You can set the next options:
Price – Maximum price to show notice
Price threshold – minimum price values.
Dropdown select with opportunity to enable or disable of using price tax(VAT) for cart total
You can see our example settings on the picture below.

Result of our configures

Time deadline
Show notice when current time less then selected value, but not more values that equals subtract threshold from time.
You can set the next options:
Time – maximum time deadline in hours to show notice
Time threshold – minimum time in hours
Day of week – days of the week when notice will be displayed
We have set up a notice, which will be show from 6 a.m. until 9 a.m. every day.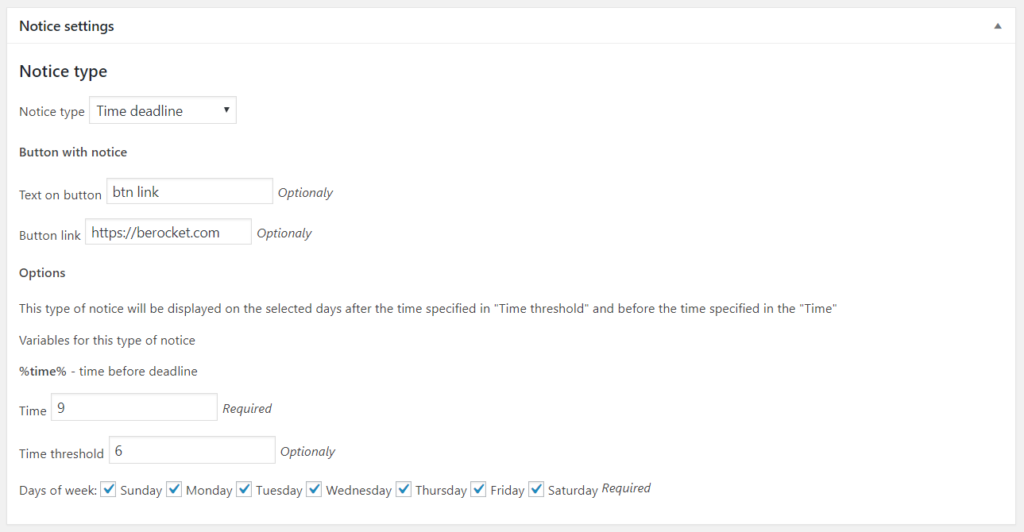 Result of "Time deadline" notice

Product in cart
Show notice when cart contains product from selected products.
Products – search box to select products
Minimum quantity of products – minimum quantity of products from list, which must be in cart to show notice
Maximum quantity of products – maximum quantity of products from list, which must be in cart to show notice
We wrote the content with notice variable, it will be show a quantity of special products in cart.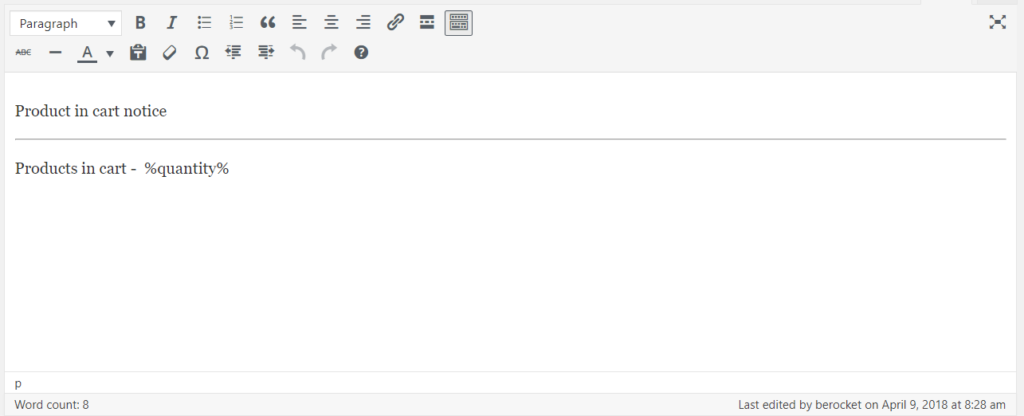 In addition, we added our special product and set minimum and maximum quantity for it.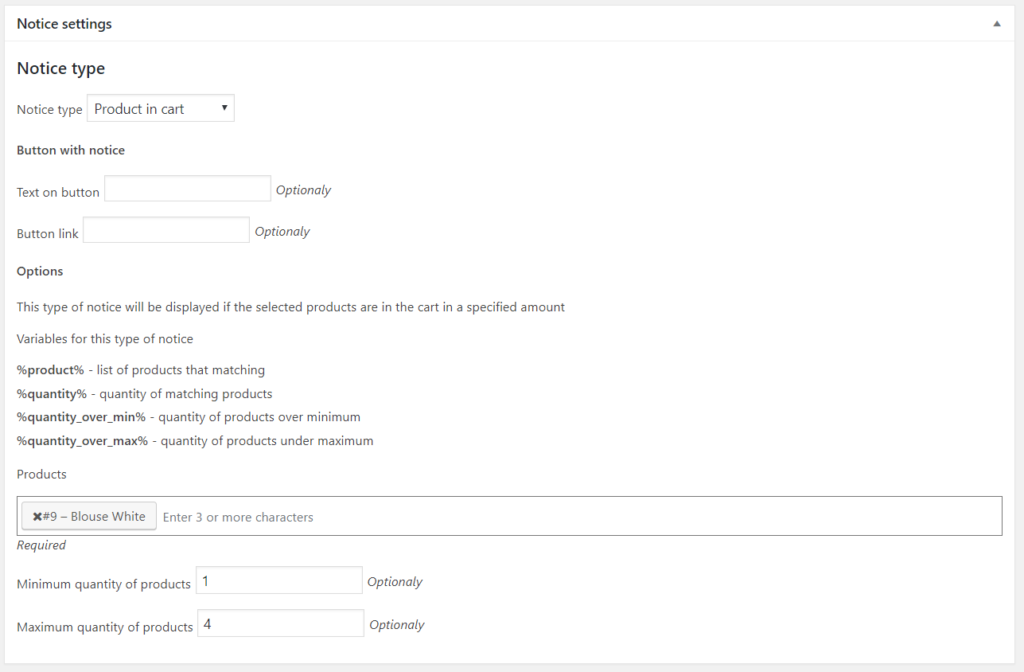 Result

Category in cart
Show notice when cart contains product from selected category.
Category – products category, which must contain one of the product in cart
We created notice for "Jeans" category.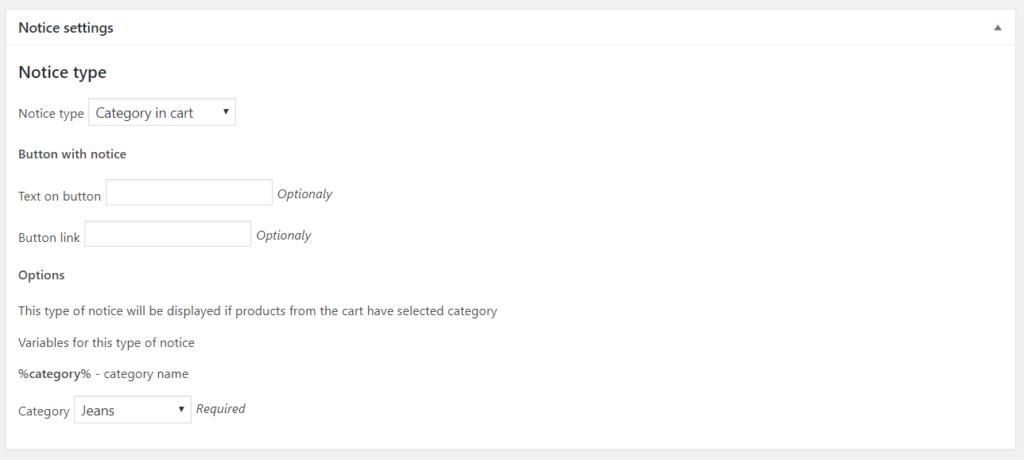 Result

We can talk about this for a long time, but it does not matter if you do not try it yourself.
Widget
The widget from plugin called WooCommerce Cart Notices. You can place this widget to any widget area like other widgets.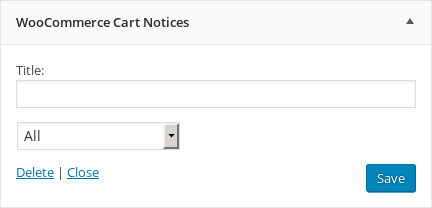 Title – Widget title
Type of Notices – type of notices, that will be displayed

Minimum cart price
Time deadline
Product in cart
Category in cart
Host referer
Result of widget work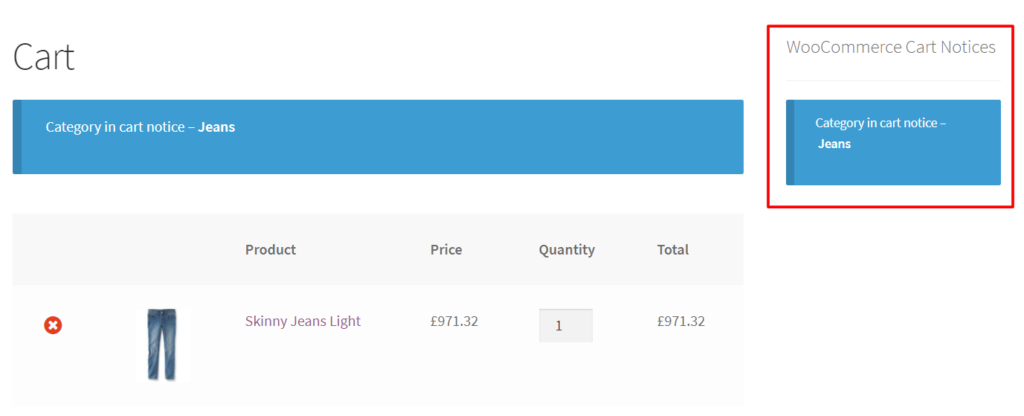 In Conclusion
We hope that this article be useful for you and your online store. In whole WooCommerce Cart Notices is very helpful plugin for each store. With him you can show special notices which depends, or not depends, on any actions. More information about plugin work you can read on the plugin page or his documentation.