In our weekly posts, we are constantly trying to help you to improve your online store. We tried to sell more than one product for each customer. We showed additional products in our product tabs. However, we have more ways to improve our store. In this article, we will consider one of them.
So, what do we do when the customer added the goods to the shopping cart and goes to it to make payment? We think that customer already selected all that he is need, and we're can't to suggest more than he is want. It's not true! We think that this is not the end.
You can to show related products in cart. Just to choose the products to each category or special product. It takes to you a few minutes and we know how to do it without any lines of code
WOOCOMMERCE CART SUGGESTIONS
WooCommerce Cart Suggestions plugin displays some additional products for your customers. Maybe your customers want some more products from your shop, but don't know about it. You can display products, that will be suggested from current products in cart.
Plugin features:
Suggest products by another products in the cart
Suggest products by categories from products in the cart
Default suggestions, that uses if another suggestions didn't found
You can setup suggested products count for cart
Display suggestions for customers on any pages and any places with widget or shortcode
The plugin menu
Woocommerce Cart Suggestions menu is located Woocommerce -> Cart Suggestions. In addition, the plugin has its own widget.
The plugin settings page has a 3 tabs:
Next in this article, we will show you how to use and configure this plugin.
General
This tab is the main tab for plugin settings configuration. On the "General" tab, you can see:
Display position – checkboxes for the position where your suggestions will be displayed
Style – dropdown select with styles for product displaying
Products per line – dropdown select with figures to select the number of products per line
Suggestions Title – field for inputting the title of suggestions block
Max suggestions count – field for inputting a max count of suggestion products
Default suggestions – it is a products that will be suggest for each products in your store
Categories – You can choose any category from your store and adding a product suggestion for this category
Products – The same logic as for categories but only for products
Shortcode – The block with information about using a shortcode
On the next picture you will see how we to configured our "General" tab.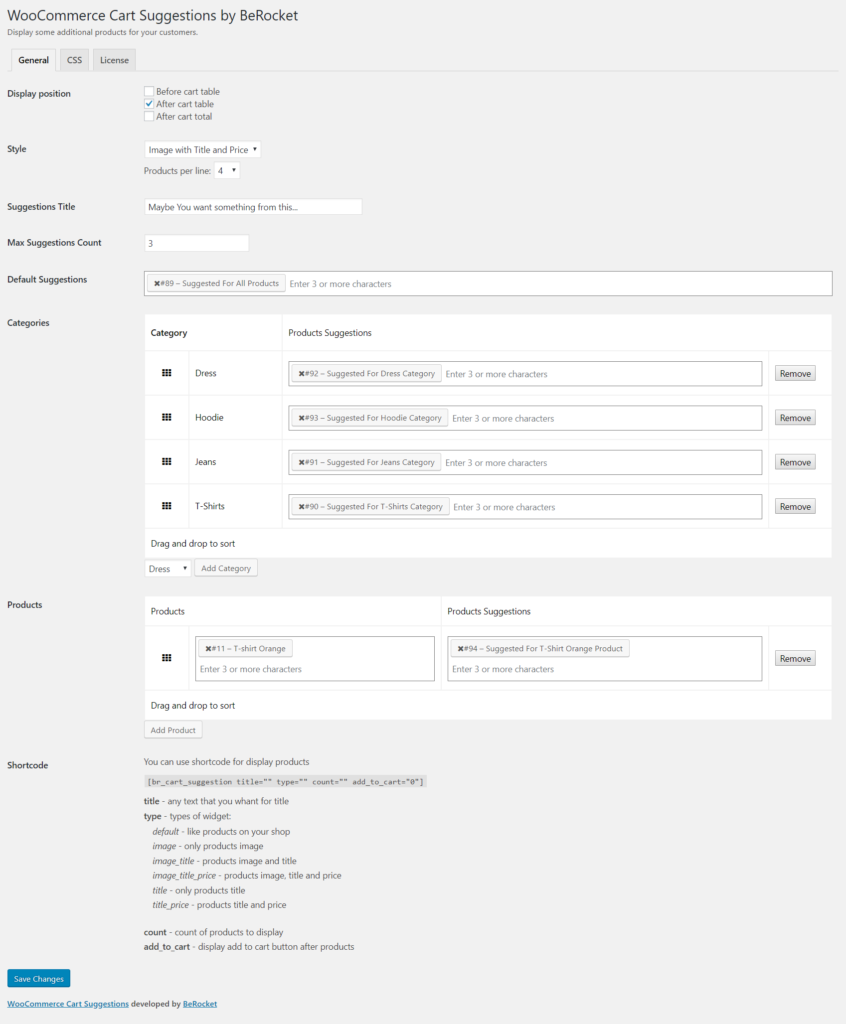 You can read our guide on how to use shortcodes if you do not already know.
In addition, we slightly customized the CSS for the widget's slider.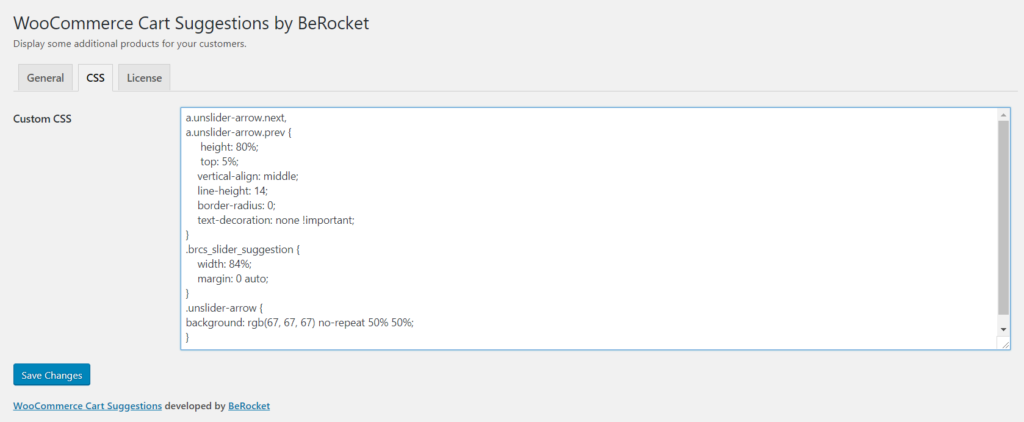 Widget
The widget from plugin called WooCommerce Cart Suggestions. You can place this widget to any widget area like other widgets.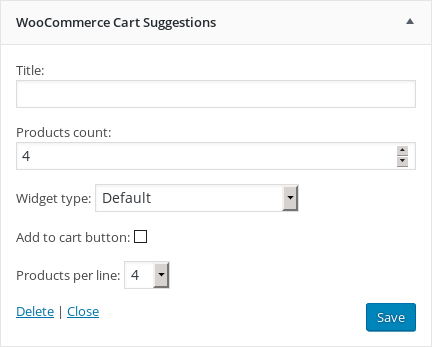 Title – Widget title
Products count – maximum products count, that can be displayed
Widget type – visual style of suggested products
Add to cart button – dsiplay Add to cart button under products or not
Products per line – products count per line or per slider for sliders type
Our widget configuration.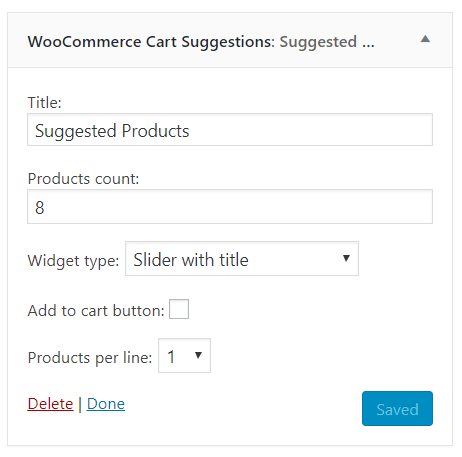 Results of work: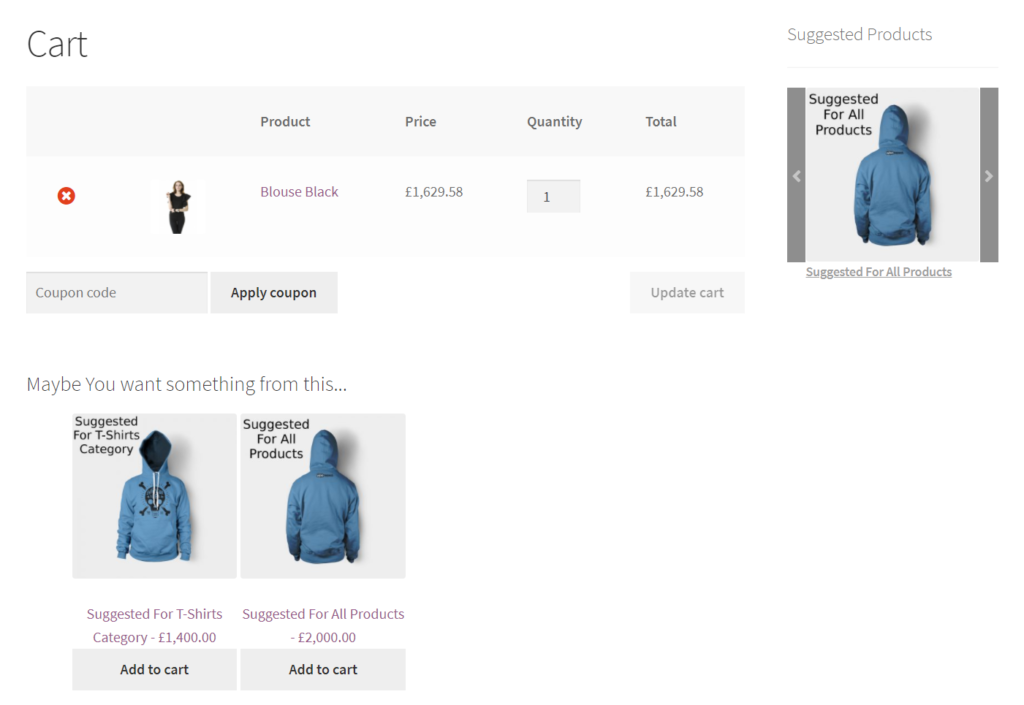 In Conclusion
We hope that this article was useful for you. With Woocommerce Product Suggestions, you can to increase your sells. More information about plugin work you can read on the plugin page or his documentation.