Let's talk about brands. What is it? What role do they play in our lives? Why do they need? Do you sometimes think about brands for your store? How do they help you?
What is it?
A brand is a name, term, design, symbol, or other feature that distinguishes an organization or product from its rivals in the eyes of the customer. Brands are used in business, marketing, and advertising. Name brands are sometimes distinguished from generic or store brands.
What role do they play in our lives?
Whether we realize it or not, brands dictate our world. They're always surrounding us, thus we are constantly being marketing to in one way to another. From the bracelets on our wrists, to backpacks, to earphones, to the cup in our hands, almost everything we use has a brand pasted on it. These brands enable connotations in our mind. They tell us information about the product and arbitrarily about the person wearing it.
When we become aware of how much brands really influence our actions, interactions, and perspectives in life, the truth is quite sobering…
It's not to say that brands don't have a good use in our lives. Brands carry information about a product's' value and can actually add to our experience. They help us see what is worth spending our money on and what is not. But the danger comes in when we let those things dictate our lives – when the companies are successful in making us feel like we can't live without their having their brandname on a product and when we judge the status of people based on a 2 centimeter logo.
Why do they need?
Let's look at 10 reasons why have your brand is important:
Branding promotes recognition
Brand helps set you apart from the competition
Brand tells people about your business dna
Brand provides motivation and direction for your staff
A strong brand generates referrals
A strong brand helps customers know what to expect
Brand represents you and your promise to your customer
Brand helps you create clarity and stay focused
Brand helps you connect with your customers emotionally
A strong brand provides your business value
Brands in online store
How do you think it is important to have a brand page in your store?
For example:
You saw beautiful jeans on some online store and you want to know brand of this jeans, but how? Okay, maybe, you'll can read this brand in title. How will be you search all jeans of this brand? You'll be open a page with all jeans and will be looking for a brand on this page? I'm sure that this way is not a convenient.
So, how will you do it? We are suggest for you Woocommerce Brands. This plugin will help you to solve issue with brands.
Woocommerce Brands
Brands are a guarantee for quality, they assure product recognition in customers. WooCommerce Brands will help you to showcase them. Each brand has name, description and image.
Woocommerce brands will help create a brand page in a few minutes. We'll show you how to create a brand page, and you'll see that it's not difficult.
The Plugin menu
The plugin menu is located in Woocommerce -> Product Brands.
The plugin has four tabs:
In addition, plugin has a "Brands Page" which located in Products->Brands.
General
On the "General" tab, we can see:
checkbox for displaying thumbnail on brand page
field for input thumbnail width
dropdown with choose a position for thumbnail
checkbox for displaying description on brand page
checkbox for displaying brand thumbnail on product page
and shortcode instruction
Each user can customize brands to their own taste. Our settings looks like that: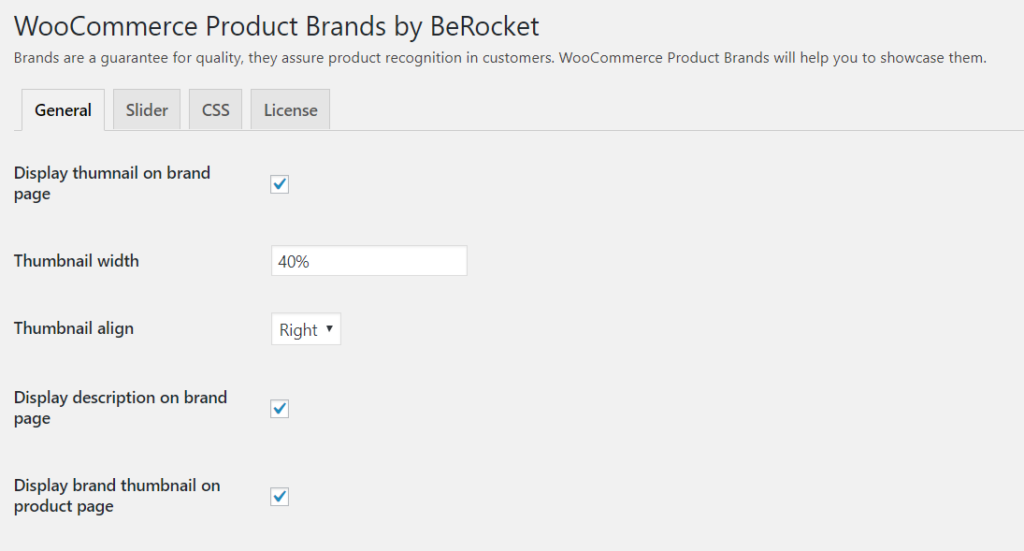 Slider
On the "Slider" tab, we can see:
checkbox for slider autoplay
field for input autoplay speed
checkbox for slider infinite
checkbox for displaying slider arrows
field for input number of brands to scroll
checkbox for stopping autoscroll on Focus
Our settings: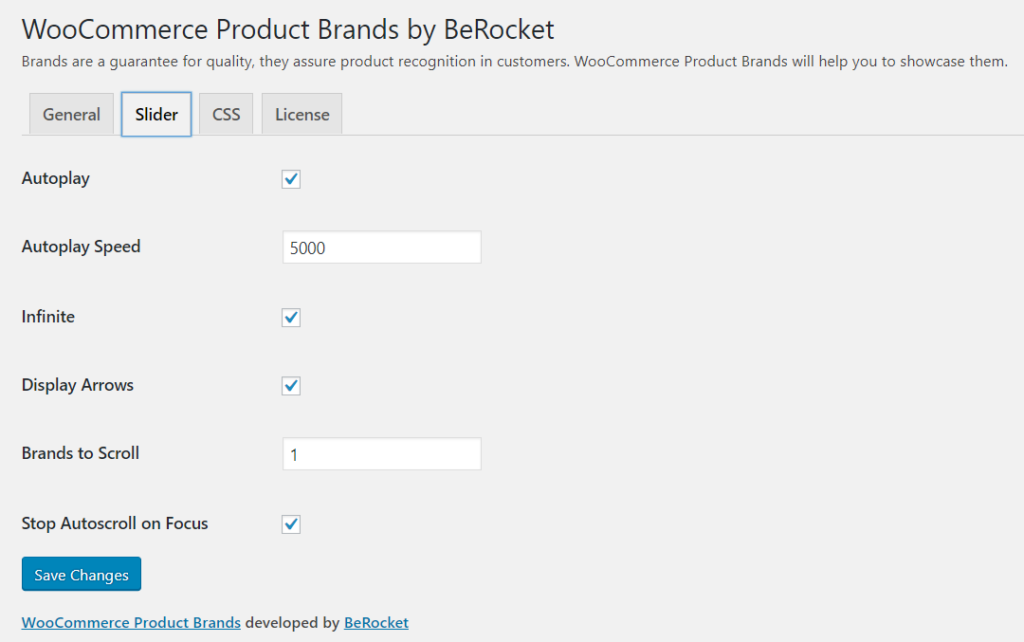 We have finished with the main settings, what will be the next step? We don't have any brands in our store … So, let's start creating our brands!
Brands Page
Plugin allow creating brands like a categories in WordPress.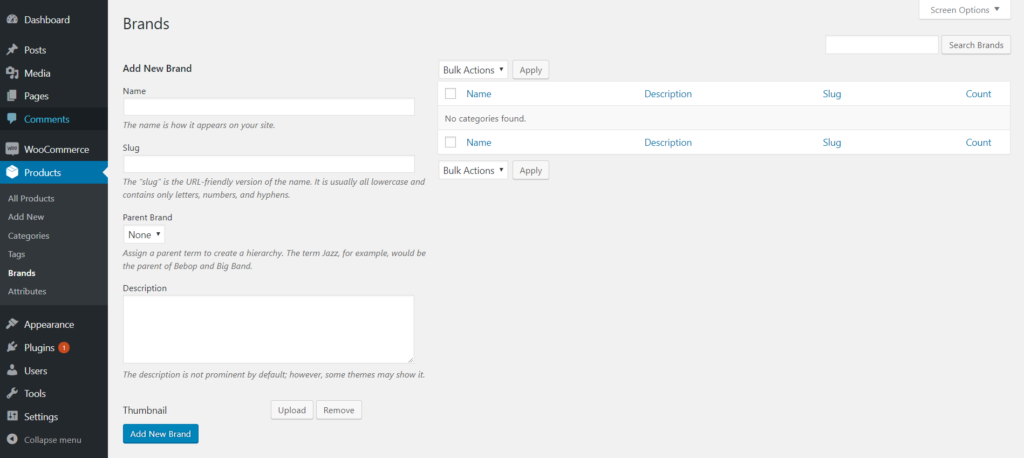 Our settings looks like that: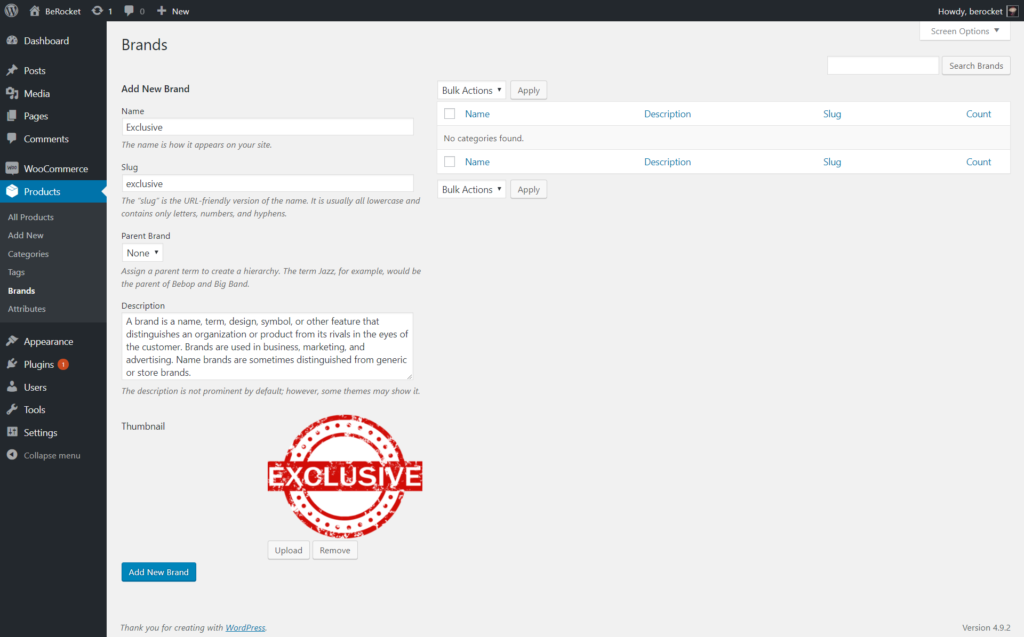 After creating a brand, you'll should add brand to the product. Go to the Products page, open needed product and add product to brand.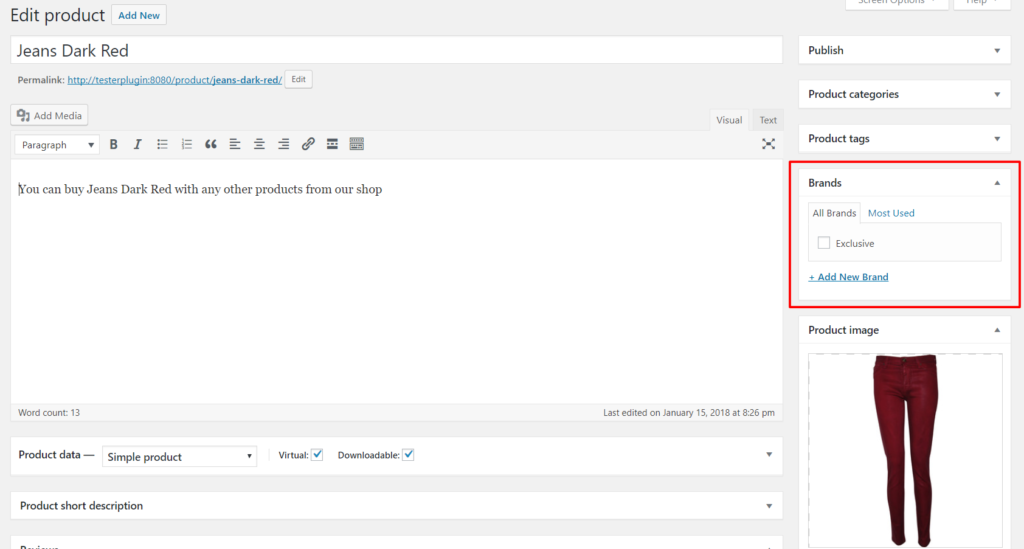 And save changes. Okay, now you can go to the product page and see how your brand on this page look. Our brand looks like that: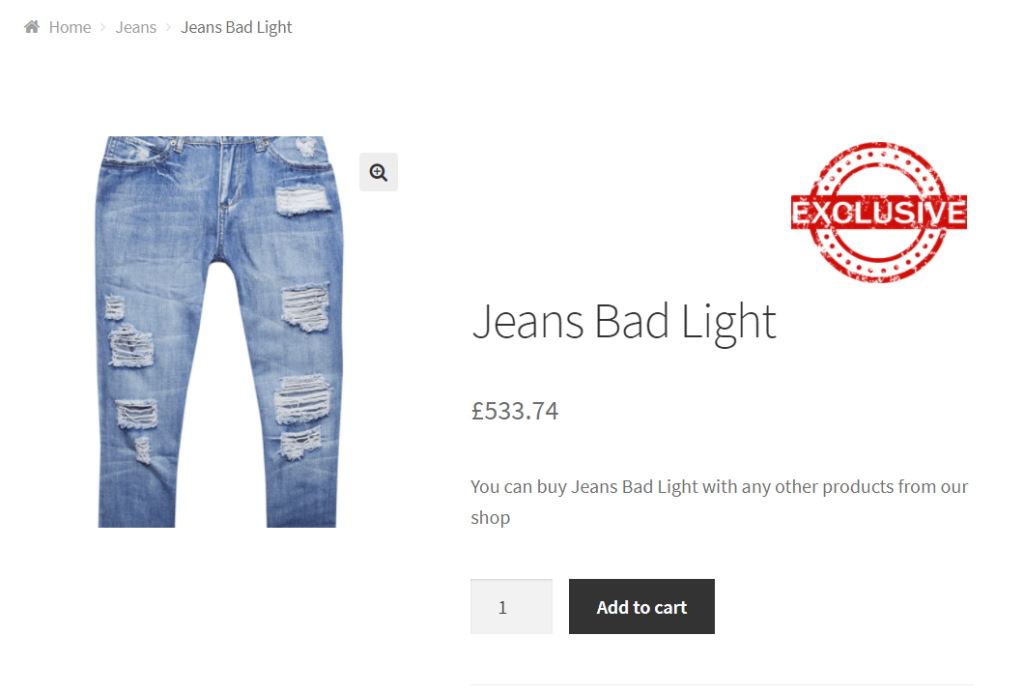 In addition, you can look a brand page. Our brand page: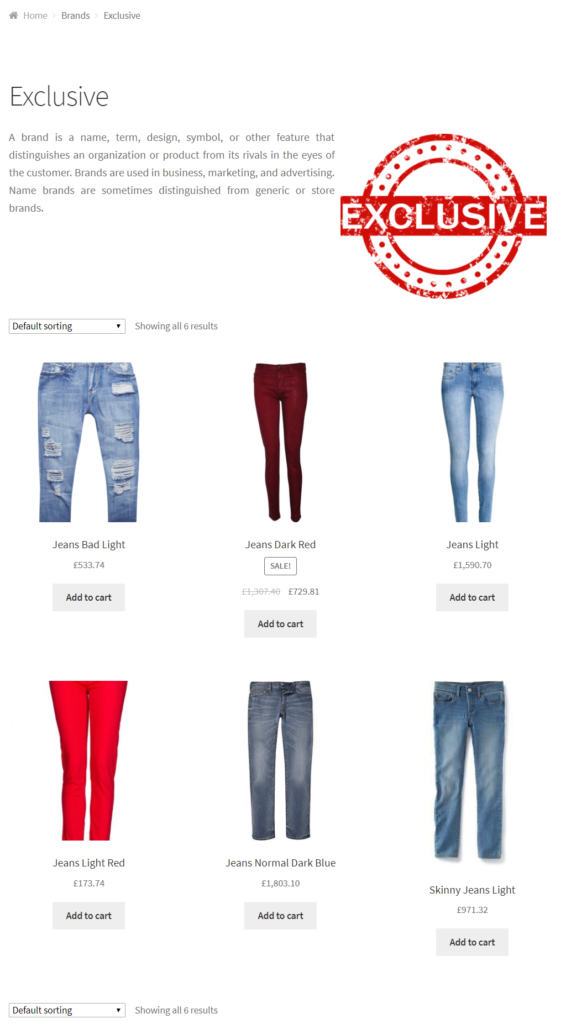 The plugin widgets:
Woocommerce Brands has a 3 widgets:
Woocommerce Brands By Name
Woocommerce Products Brands
Woocommerce Product Brands Description
Woocommerce Brands By Name
Widget to display Brands list by name. You can place this widget to any widget area like other widgets.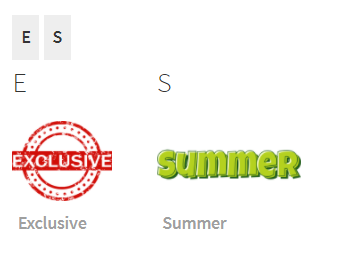 Woocommerce Products Brands
Widget to display product brands. You can place this widget to any widget area like other widgets.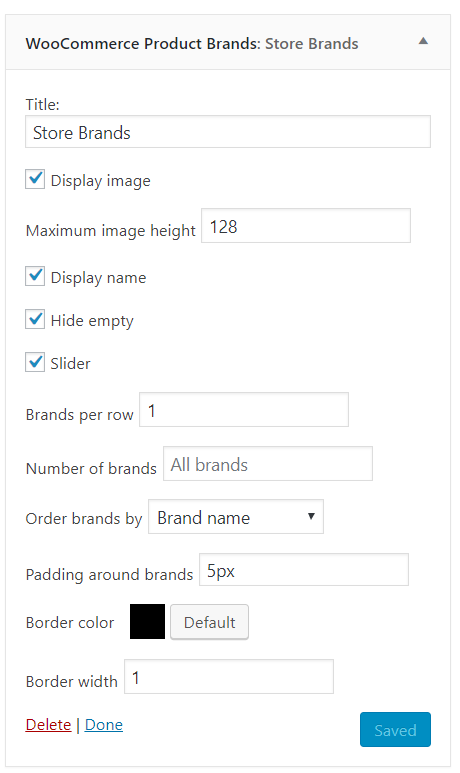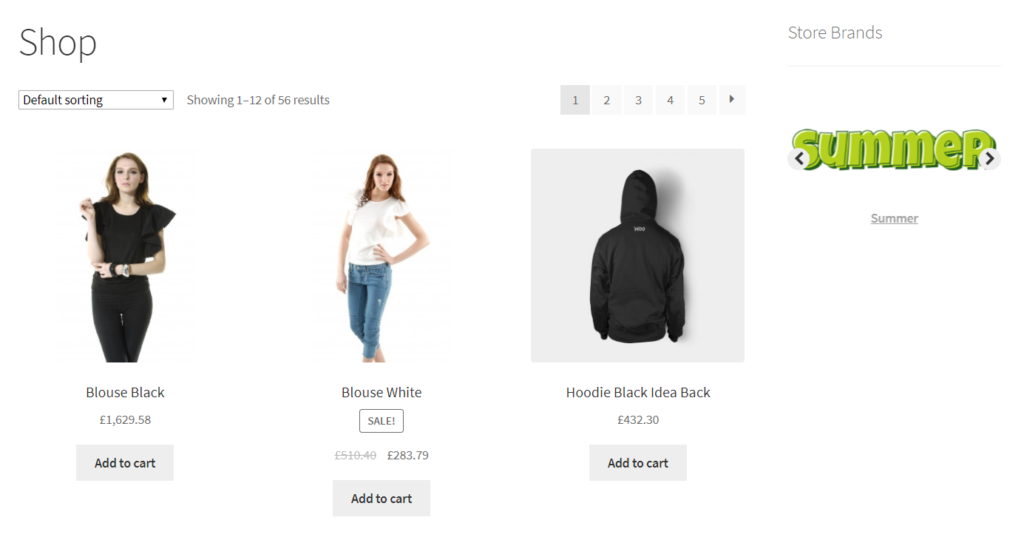 WooCommerce Product Brands Description
Widget to display product brand information. You can place this widget to any widget area like other widgets.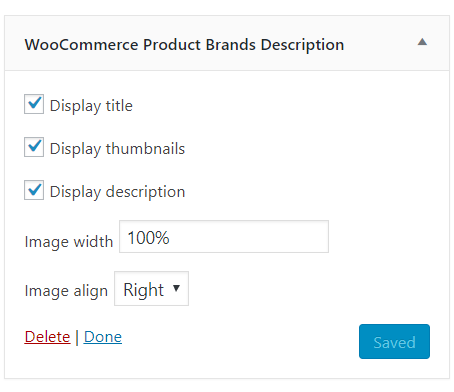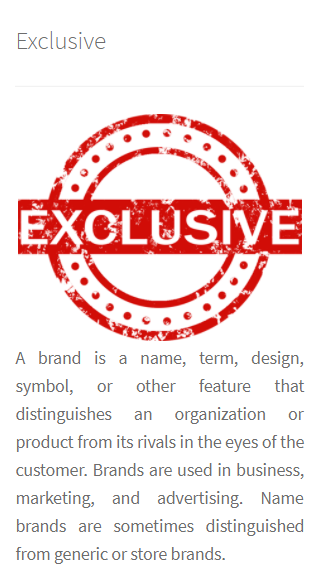 Shortcodes
The plugin has a 6 shortcodes:
[brands_product_thumbnail] – display brand thumbnail on product page. Displayed brand name, when brand has no thumbnail.
[brands_info] – display product brand information
[product_brands_info] – brand info on product page
[brands_products] – display products for specific brand like WooCommerce product category shortcode
[brands_list] – list of brands
[brands_by_name] – brands list by name
In Conclusion
We hope that this article be useful for you and you'll try Woocommerce Brands for you store. Additional information about plugin you can find on the plugin page and his documentation.